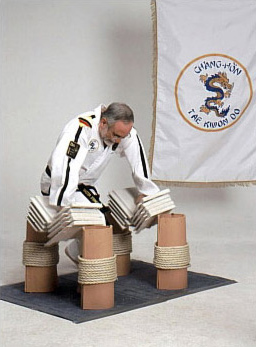 Mel Steiner is a Martial Arts instructor and competitor with a 9th Dan in TaeKwon-Do. Among his many accomplishments he is listed on Who's Who in American Martial Arts, and also included in Marquis' Who's Who in the South and Southeast. Grandmaster Steiner is a Certified International Instructor, as well as a Certified International Umpire.
In 1989, he was inducted into the International Karate Hall of Fame. In 1994, he was one of only five in the U.S. to be recognized by the International Taekwon Do Federation as "Outstanding Instructor"
Grandmaster Steiner began his Martial Arts training in 1969 and began teaching in 1974. He opened Chi Taekwon Do school in 1981. His articles "Condition the Hand the Eastern Way", "Martial Co-Ops, The New Wave" "China in Search of Roots", "How to Measure Stances" and others have appeared in the Tae Kwon Do Times Magazine.
Accomplishments
1969 – White Belt
1974 – B.A. from Florida International University
1981 – Opened TKD commercial school.
1984 – 1st to demonstrate TKD at the Honan Shaolin Temple in China
International TKD Federation-I.T.F.
1986 – Promoted to 4th Degree #A-4-102
1988 – Certified as ITF International Instructor #419
1989 – Promoted to 5th Degree #A-5-37
1994 – Promoted to 6th Degree #A-6-21
1999 – Promoted to 7th Degree Master #A-7-14
2001- Feature cover Taekwon-Do Times Magazine
2003 – Promoted to 8th Degree Master ICTF #1
2007 – Promoted to 9th Degree- Grandmaster
I.T.F. school plaque #301
Class "B" I.T.F. National Umpire #281
Class "A" I.T.F. International Umpire #542
Re-established I.T.F. governing body in ­ Jamaica, Colombia, Venezuela & Nicaragua
Hosted the 5th I.T.F. Instructors Course in the U.S., #35, taught by the founder of Taekwon Do – Gen. Choi Hong- Hi, in 1991
Hosted the 1st ever I.T.F. Instructors course taught by a non-Asian Grandmaster C.E. Sereff – 9th Dan
Participated in thirteen I.T.F. International Instructors Courses and taught two
One of only five in the US ever to be awarded "Outstanding Instructor Award" by the I.T.F. in 1995
Met with Nicaraguan President Chamorro to promote Taekwon-Do in the Army and public schools
Designed, published, copyrighted a unique method of measuring stances
Inducted into the "International Karate Hall of Fame"
First President of Organizacion Chi Taekwon-Do Venezuela and U.S.A.